Date
06.07.2022 - 06.07.2022
Event organizer:
Live Nation Estonia OÜ, www.livenation.ee; livenation@fbi.ee
DJ Tiësto, a superstar of electronic dance music will heat-up Tallinn Song Festival Grounds in July
  
Tiësto, a visionary of dance music, will perform at Tallinn Song Festival Grounds on July 6. There is no doubt that this is the hottest concert of the summer, when the superstar holding the title of the best DJ of all time and the godfather of EDM, will bring his biggest hits "The Business" and "Jackie Chan" and a lot of wonderful dance music.
The gates to the concert open at 17:00. Entrance - through the Oru and Mere gates.
End of event 23:55
There are food and drinks sales.
  
Area plan for the concert: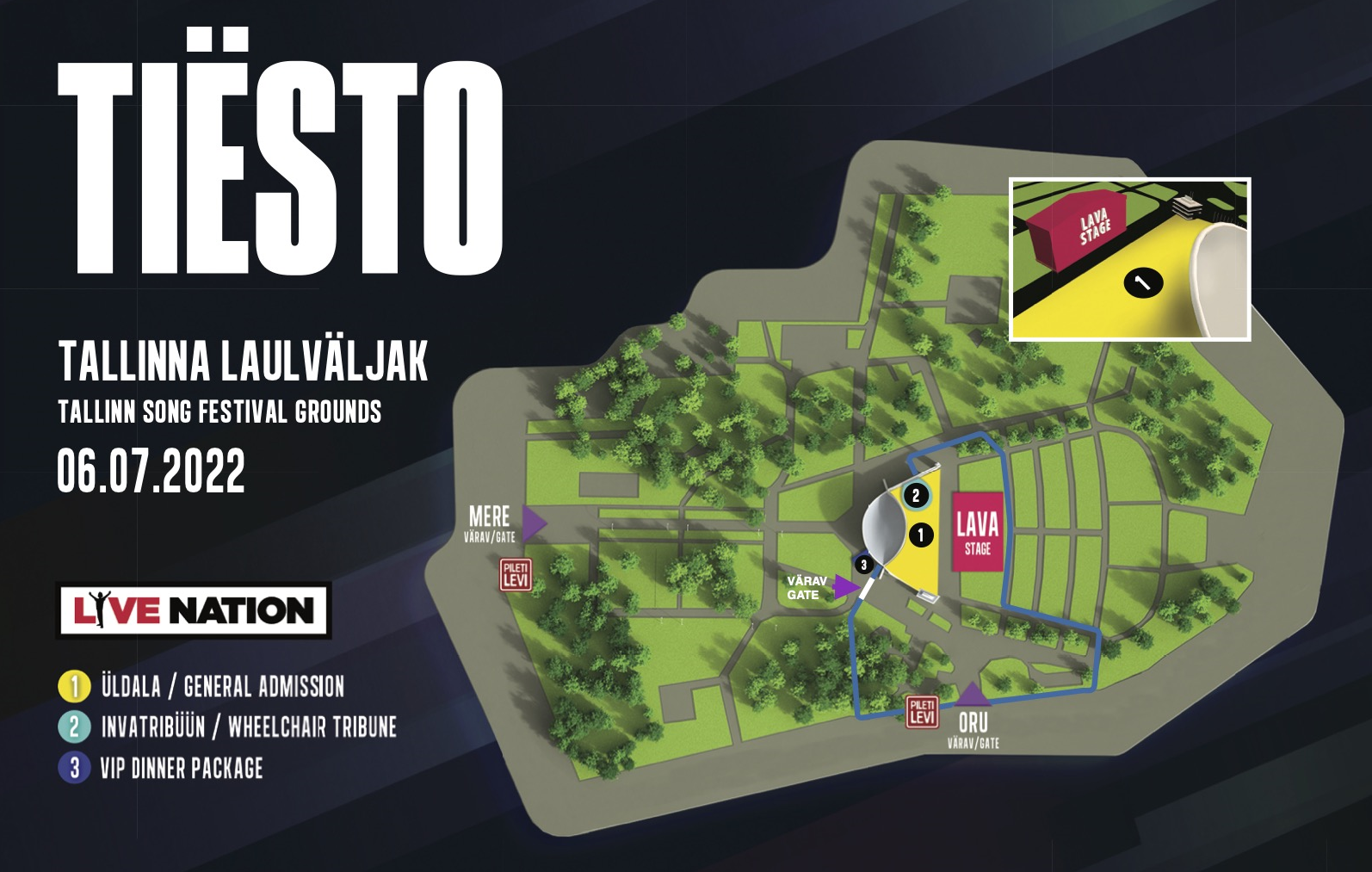 Tiësto is an artist who does not need to be introduced and who is considered to be one of the best performers in electronic dance music. During his career, the DJ and producer in the international arena has taken home several prestigious Grammy Awards and brought platinum-dancing hits to the audience. The latest of these songs, "The Motto" featuring the enchanting pop artist Ava Max, is Tiësto's third single in a row from his upcoming studio album, shaking up the charts and radio broadcasts around the world.
  
The dance music edition Mixmag has named Tiësto the best DJ of all time. The talented producer enjoys golden praise also from others, such as Billboard, which has given Tiësto the glorious name "The Godfather of EDM" and according to Rolling Stone magazine, Tiësto is the number one DJ in the world.
  
Tiësto, an electronic music producer from the Netherlands, has sold more than 36 million albums and is followed by more than 30 million active fans worldwide. The remarkable works of the international icon include countless albums, singles, remixes and more, which have gathered more than 8 billion listens on all platforms. Tiësto's "The Business" a piece that has made the biggest spotlight recently, also dominated the first position in the radio waves in Estonia. This was followed by the single "Don't Be Shy" performed together with the Latin artist Karol G.
  
During his remarkable career, Tiësto has collaborated with incredibly talented like-minded people, including Post Malone, Rita Ora, Diplo, Martin Garrix, Busta Rhymes, The Chainsmokers, Gucci Mane, Icona Pop and more. From underground dance hits to a high-profile Las Vegas DJ residency and recognition across genres, Tiësto is the perfect example of a successful career in the world of contemporary dance music.